Father's Day got a little bit lost this year. Not in a terribly bad way of course, but when you have your parents-in-law over, and the afternoon is not only spent celebrating Father's Day for your father-in-law, but also celebrating your mother-in-law's birthday (which had been the previous Monday on August 27) and your father-in-law's birthday (which will be in two days time on September 4), well... you can see where the day may have lost some of its sparkle of being with one's kids.
Anyway. You get that.
Helen and the kids on Fathers Day 2012.
Got some good gear, as detailed below.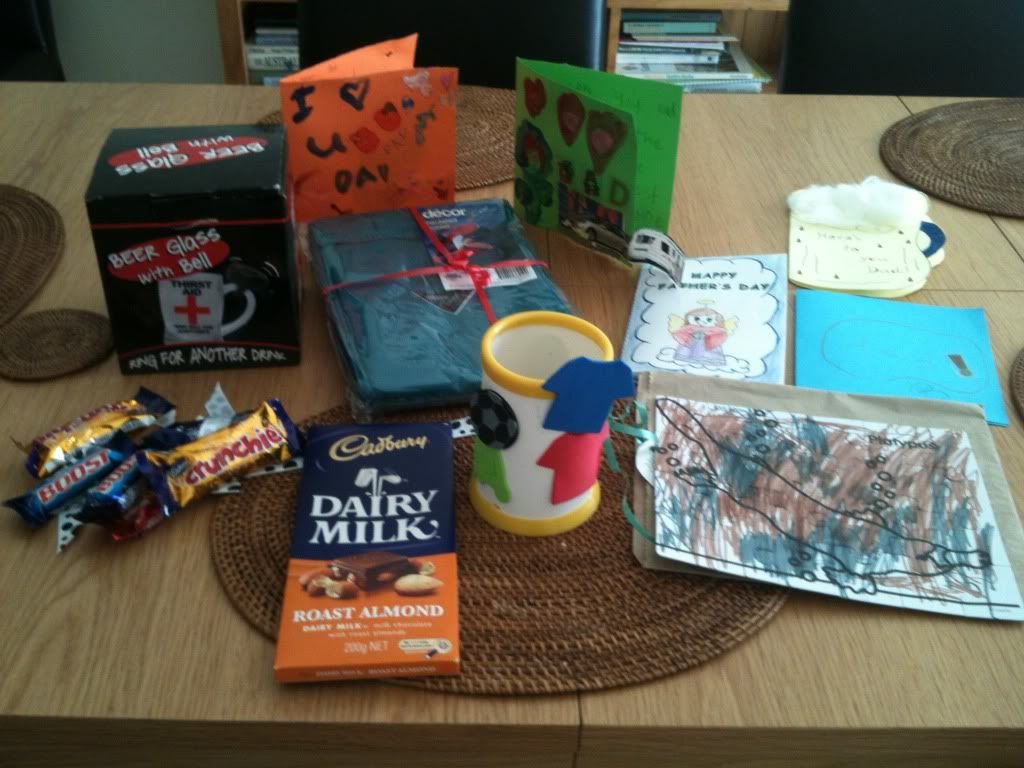 Josh made me a great jigsaw puzzle of a platypus, and coloured it himself (on far right), as well as a pencil holder for my desk, which he decorated himself. Good job Bucko! Maddi got me a cooler bag for my lunch, as well as a block of Roast Almond chocolate. Great job Mads! Jessie had her eye on something else for me, that one of her friends bought just before she could get it. However, I struck gold with the "Beer Glass With Bell"!, which I can ring whenever I want it refilled. It got a workout on father's Day, I can tell you! Super job JP! There were also some assorted little chocs, and of course th handmade cards. All great.
Topping this off was Helen getting Will Sheridan's Victorian Bushrangers shirt framed for me. It contains the signatures of Victoria's most recent Australian representatives - Chris Rogers, John Hastings, Peter Siddle, Cameron White and Andrew McDonald. The only pity is that wwe can't see Sherro's name and number on the back!
Breakfast on The Deck